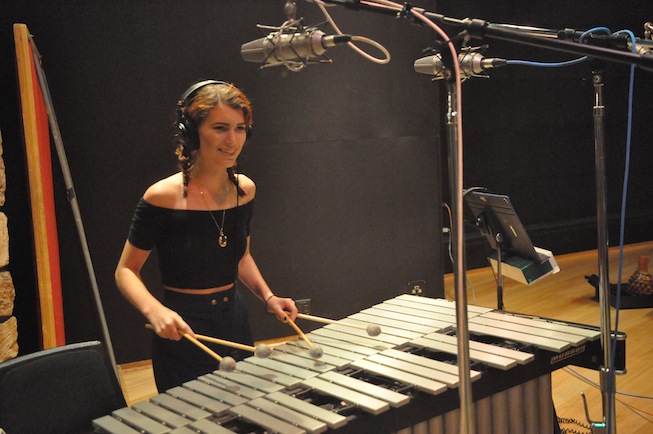 The annual Smalltune Music Scholarship created by producer/engineer Reto Peter was designed to support Oakland School for the Arts (OSA) by giving one student of the music department the opportunity to record one or more original songs at a renowned professional recording studio in the SF Bay Area. First introduced in the Fall of 2013, the scholarship is open to current juniors to provide a quality recording used for college applications and professional opportunities.
Smalltune Music Scholarship 2015
The recipient of this year's Smalltune Music Scholarship was Sasha Berliner, a 17 year old multi-faceted musician from the Bay Area. She specializes in percussion and song writing. She hopes to change the way her new generation perceives music and bring it back to its roots in a unique way…
Sasha and her band made full use of the studio time at Fantasy Studios in Berkleley, CA and recorded 4 original songs written by Sasha. She sang, played vibraphone, percussion and some drums.
Smalltune Music Scholarship 2013/14
The 2013/14 recipient of the Smalltune Music Scholarship was Devohn Moore, a 17 year old Oakland resident. His passion for singing and music appreciation began at age 10. After high school he intends on studying music in college and pursuing a career in music.
After a day of preproduction at Reto's production studio, Devohn and his band entered Jingletown Studios in Oakland, CA in June to record 2 songs. With Reto engineering, Devohn and his band spent two long but very creative and productive days recording Devohn's music.
Oakland School for the Arts is a public charter school in the Oakland Unified School District that opened its doors in 2002 with a mission to immersive arts experiences in a college preparatory setting. The school curriculum revolves around the concept of integration, both between academic subjects and with the arts. OSA currently serves 670 students in grades 6-12.